The Bullets and Burgers Las Vegas Shooting Adventure Begins Here! #1 Rated Las Vegas Shooting Range!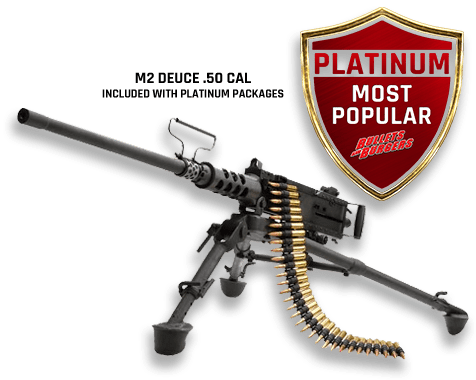 Top rated Las Vegas shooting range experience, Bullets and Burgers offers the largest selection of full auto machine guns, high powered rifles, and handguns in the Las Vegas area. Be prepared for the experience of a lifetime with the only outdoor shooting range in Las Vegas. Practice being a sniper while you shoot a 50 cal rifle at an exploding target or hold on tight while you feel the kick of a fully auto machine gun. Bullets and Burgers takes you to the battlefield with the most extreme shooting adventure around.
Complementary pick up at your hotel by one of our tour guides in a private shuttle that can accommodate up to 14 people. Then you will travel to our outdoor range set in a stunning desert landscape. The outdoor range is superior to all other Las Vegas ranges with our unique 'Desert Storm' atmosphere and military style bunkers. It is located on an eclectic 30+ acres surrounded by picturesque mountain views at the edge of the undeveloped Las Vegas Lake Mead Recreational Area and views of the Mojave Desert.
Guests have the opportunity to try a wide range of machine guns on full auto.
Click here to view all available weapons.
Shoot a .50 Cal weapon including the Barrett, Browning ('The Deuce'), and the Desert Eagle. We even have the actual firearms used in several Hollywood films including, The Terminator and Rambo II.
But wait, there's more!
To top it off, lunch is included in the World Famous Arizona Last Stop restaurant located onsite. You will be treated with our World Famous All American Hamburger, fresh cut fries, and a soda (vegetarian option available). The All American Burger is guaranteed to be the best hamburger you have ever eaten.
The Bullets and Burgers Adventure Tour is approximately 4 hours in length from scheduled pick up to drop off back at your hotel. We guarantee it will be the best adventure you will ever have! We also offer combinations packages by Grand Canyon Helicopter, which lands at our private helicopter pad, (Grand Canyon Drive Tours), Muscle Cars, Harley's, Motorized ATV Tour, and Skydiving. Combining your adventures allows you to do all in one 6 hour adventure instead of two days with two separate companies, giving you more time to spend on vacation. Our most popular combo tour is our Triple Threat – Shooting, ATV tour, and Grand Canyon Helicopter all in 8 hours.
We have an outdoor patio that can accommodate up to 200 people for Corporate and Group events.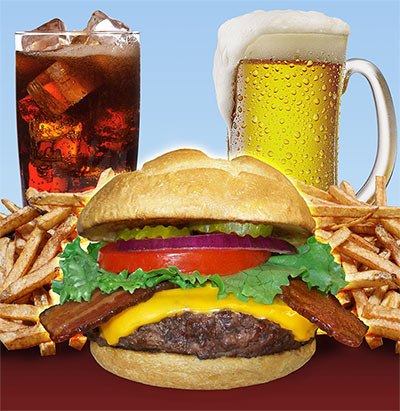 Reservations are required and we do take same day bookings.
Bullets and Burgers is currently open 7 days a week from 8 AM – 6 PM
For any inquiries or if you have an existing reservation, please email us at
[email protected] or call (702) 333-0999
Book Over the Phone for a
FREE RIDE
on the World's Longest
Monster Truck!
$25 Value!
With a purchase of any Shooting Package or Lake Mead National Park ATV Tour to the Colorado River.
Book Online for a FREE RIDE
on the World's Largest
Monster Truck!
$25 Value!
With a purchase of any Shooting Package or Lake Mead National Park ATV Tour to the Colorado River.
What Our Customers Have To Say